Summer Term 2019
Nature's art
The children took to the woods this week with the intention of creating their woven piece of artwork, finding materials from the forest floor to weave through their cardboard looms. Once again, fascination was found in the collecting, the cutting and the talking about the process as much as in the creation of an end product.
The children later followed their own creativity in scaffolding their role play games by making wands out of sticks, leaves and flowers.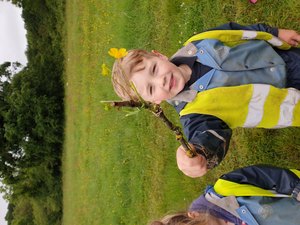 Whilst we do love going out into the Great Outdoors, we can also enjoy some of the experiences of nature school just in our own garden , as we did last week turning snack time into an opportunity for making a fire and cooking sausages and of course marshmallows!
Nature's playground.
Following previous discussions we've had about the "nature" of "Nature School", whilst sometimes we have specific aims or activities (such as scavenger hunts or painting as below), other times it's just good to follow wherever the Great Outdoors takes us. So this week the children took on challenges as they scaled the hill, helping each other ingeniously along the way by extending sticks in place of ropes. The den became a pirate ship for a look out post and fallen branches were see saws or benches for sitting on and playing a game of eye spy.
Walking through the fields of dandelion heads we couldn't resist blowing the dandelion clock (that field is destined to have many dandelions year on year!) And reaching the pond we discovered so many new tadpoles wriggling around, as well as the resident newt (or baby lizard) under the log. All in a morning's work

We welcome Sarah to our team this term, who comes to us with a Forest School level 3 qualification, which means we can officially call ourselves a 'Forest School', however I still prefer our 'Nature School' title which can encompass more than just the woodland. (To be honest I'm toying with the 'School' title at all but that's for another discussion

).
However for now we have been using woodland adventure in a creative way and making links with the Shooting Star's "active" story of 'One Eyed Jim' as they conducted a Pirate Scavenger hunt in the woods, searching for eye patches, swords or peg legs, as well as having some imaginary voyages in the process.
Outside of the woods we have taken time to just "be" and explore the growing tadpoles in the pond as well as observe nature around us: the changing colours of trees and the abundance of flowers in the fields. Trying to capture the essence of Spring time colour, we became impressionists, looking at the artwork of the likes of Monet and Van Gogh and produced our very creative en plein air art work.
Spring Term 2019 
The real Spring: Spring flower hunts and tadpoles
As ever in this country, this term has been a real change of weather, with the warmth of a "false Spring" in February to a rather chilly snap again in March and into April. However we still have been able to appreciate the changes of the seasons by noticing features around us: identifying Spring wild flowers and tadpole spotting as well as looking at the blossom and buds that appear on the branches. 
One man's mound is another toddler's mountain 
Nature School certainly isn't just for the older children at nursery as our Rising Stars get just as much chance to test their physical strength out in the Great Outdoors. The "hunps" as they are termed, which are a series of mounds created for some of the local teenagers to try out their skills on bikes and motorbikes, provide much fun for all of our children and challenge some of our youngest mobile children. What an achievement it is for them to reach the top of their mountain!
The outdoors: A space for strength and resilience of the mind and body
Nature "school" is about learning but this doesn't have a set curriculum, instead it provides a space to learn about ourselves, to learn our capabilities, resilience, independence, strength in both the physical sense and of character. Here the children can learn that if they fall over they can pick themselves back up again; they learn that even if they get cold then soon they can warm up again. A hill that at first appears too difficult to climb can be overcome with a little help from a friend, or through pure perseverance or trying a different way.  These are the foundations, the skills on which all subsequent learning can be built upon.  These are the skills which will enable the children become successful learners as they progress through formal education: which will allow them to be masterful students, ready to take on any challenge themselves, rather than helpless learners.  We want our children to think for themselves, to be tenacious, imaginative, resourceful, self- disciplined and self – aware and all of these skills are developed through play in the Great Outdoors. Let them fall over in the mud and allow them to pick themselves back up again.
February's false Spring 
So a week of sun may have been a premature taste of Spring, but we still made the very most out of it, with days spent out in the warm temperatures and even the frogs have been fooled by the weather as our visit to the pond discovered some early frogspawn.  Uncovering logs revealed a frog and  a "lizard" (a newt).  Once again, the opportunity to witness change and growth in this way is such a beneficial way for the children to learn and experience the world around them.
As I have talked about before, being able to get out into the natural world around us gives the children first hand experiences of changes of the season as well as growth, decay, time, as we  observe the living world that we share.  We try to visit the same places and record the changes each month, as we have been doing looking at trees as they change.
As we start the Spring term we have also started regular visits to the pond. Our January visit was a chilly one and icy enough to have frozen the water on the surface of the pond. This allows us to talk about how water freezes and what makes it melt again (all sorts of talk about moving atoms, the sound of cracking ice, what lies beneath the ice..).  Where does a walk to the pond fit into the EYFS framework?  Pretty much everywhere as we talk, discover new words; we grow resilience, we use physical skills, we learn about science, nature. We talk about shapes, size, length, height; we use imagination in describing what we see…in fact the list really is endless. This is why a 10 minute walk is the best preparation for school you could do

Autumn Term 2018 
Maths and nature 
Who would have thought an icy walk or cooking cheesy wraps over an open fire was a maths lesson? You would if you were a Little Star.  Finding different shape pieces of ice allows us to not only talk about the effects of the weather and changes in state to and from ice as the temperature drops or gets warmer but also about whether the pieces are a triangle, square, or rectangle. Some have been neither!
Other visits to the woods have been a swinging good time!
Nature's treasure basket 
There have been many different "buzz words" and trends in Early Years, from heuristic play to loose part,  and one such trend has been for "treasure baskets" which present young children with a variety of explorative items, usually neatly organised into "wooden" or "natural" collections. However what better way is there to really experience the treasure of natural materials than actually being out in nature itself, to tangibly feel changes in texture and form. Leaf walks are arguably far more valuable than being presented with a basket full of adult constructed and chosen "treasures". I could again qualify the learning experiences of a day out in the Autumn leaves (and pouring down rain!), but I'll let the pictures speak for themselves:
Autumn is my favourite time of the year to be outside with the children. I think it the most visually educational as the children see changes happening almost weekly with the colour of leaves changing and discovering new and different things in the hedgerows from blackberries to conkers. We've been having leafy walks and collected conkers to use back at nursery to explore our creativity with conker rolling, leaf printing as well as many visits to the woods.  There really is no better way to appreciate the changing of seasons.
We have also discovered wildlife that have shared the woods with us, not only beetles and woodlice under the logs but finding a frog and a toad was a delight and the children were able to examine the creatures up close and personal!
Being out in the woods or countryside isn't just about appreciating nature but also the environment offers a certain freedom for the children: freedom to run, to be loud, to be creative as they turn a tree trunk into a train or a shop. Ideas and story comes alive as we really can trip trap over rickety bridges or look for the Gruffalo. There is space to play as a large group or to take a moment to be by yourself. There are no prescribed ways of doing things; no right or wrong answers. Play offers physical as well as mental challenge. We listen: to each other, to the birds or the wind in the trees. We play.