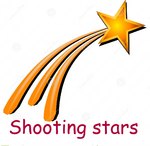 Autumn Term
December
December of course means one thing…Christmas and I think many of you have already been hearing snippets of nativity songs being practiced at home. The Shooting Stars have been authors of their own nativity play this year, without giving too much away as their song choices have been included as much as possible. The enthusiasm for entering into the singing, the performing and dressing up is high and it has also helped them to understand the story of the nativity.
However Christmas is not the only festival  that is celebrated at this time of the year and at the start of the month the Shooting Stars learnt about the Jewish festival of Hannukah and the story of 3 years of fighting held their interest.
Whilst you can't help but want to create Christmas themed decorations and art work, we are still led by the children's own creativity and ideas. Hence what was intended as a starry wall backdrop became a piece of art in itself and led to body art work, whilst our santas were certainly individualistic!  We made discoveries working together exploring "snow"
We've also been creative in sending some glittering letters to Santa which gave us the chance to use our emergent writing skills. Look out for your replies from Santa in the post!
November 
Mindful moments
We have been using practices from 'Sunshine circles'/ thera play in our daily routines for some time now and these have been used successfully in our morning 'timetable' half hour at the beginning of the day, as has been reported before, and on the Rising Star page where we talked of mindful moments. Over the last couple of weeks we have been exploring these mindful moments with the Shooting Stars. The idea of these short periods is that they can share an experience as they want to, playing with bubbles for example or feathers. There are no "outcomes", no expectations, no learning goals. It is there just for the children to wallow in their own moments.
Making learning real
We all know that it is far easier to be motivated when we are doing things that…well motivate us! This is why we work with you and the children in planning for their interests first and foremost and making play and learning relevant. This means for many learning and playing on a practical and active level, hence the creation of our work shop in the garden. Vicki was helped in putting up storage units and magnetic strips for tools last week as they used mathematical ideas and mark making to bring their learning to life.
With Christmas approaching (and with that rather a lot of time spent on the nativity story), rather than having one story that takes us through the term, we have been adapting and adopting active story making to many books and stories. You will read on the main page our interpretations of the Diwali story of Rama and Sita (always popular with our Shooting Stars, having characters such as the monkey king and Havana, the evil warrior king!) and we have also been bringing some classics to life: Rosie's Walk and Goldilocks. Combining many techniques of using props, books, story maps, actions and even making our own porridge (both inside and outside the the garden kitchen), the children have been able to find a form of expression that suits them. Observing them using these techniques in their free play is the most affirmative proof of the value of story.
September
We are just a month into the new term and our pre school Shooting Stars have made a sparkling start!  We have been getting active with our new story of The 3 Billy Goats Gruff, developing our literate journey as we practice tuning in to sounds to extend listening skills and "write" our own story maps. We've been out and about exploring the changes in nature as Autumn approaches, conducting our own experiments and investigations into change, cause and effect. We've been postmen, pirates and princesses, we've been playing.
When is a scribble not a scribble?
With  the children entering into their pre school year comes a risk that the focus is about "preparing" them for school: "teaching" them how to write their names, "learning" their numbers, counting, shapes etc. What we cannot and at Little Star, do not forget is that these are 3 and 4 year olds. A 3 year old is a 3 year old and is not someone who "will be 4″. Some of our new Shooting Stars have months of being 3 left

So, this "pre school" year is still all about play. It's about becoming independent and passionate learners, social people who can accept others in their play, who can listen to and be appreciative of what others have to say (both adults and peers). It's about value, being valued and placing value on their own abilities and worth. Every child can shine and this is how we propose to do it:
Writing floats on a sea of talk
We love books and their value is placed very highly at Little Star (as you will be read on the main what have we been doing? page), however, learning and play is an active process and this is why we embed the styles of Pie Corbett's 'Active Storymaking and 'Talk for writing'. For those new to the concept of 'Active Story making' you can read more about its essence and intentions in the letter below but it is a teaching strategy that in my opinion has something for everyone and can be moulded to suit the interests and learning styles of all children.   We tend to kick off the term with the 3 Billy Goats Gruff as its beauty lies in its simplicity. The actions are repetetive and fun, as are the words ("Ok kid, move along!") and the children can get fully active in trip trapping across the bridge, both imaginatively and across bridges out on our walks.  Both in the telling of story orally: with just actions or with props and constructing bridges,  and in "writing" as they create their own story maps, the children are becoming literate.
New vocabulary and parts of speech are introduced as we learn the building blocks of story ('Once upon a time'; 'Early one morning'); connectives ("So", "next") and new vocabulary (The "rickety" bridge). They are reading, as they recognise and follow the pictures in the story map.  As we progress, we will be allowing the children to alter the story for themselves and become master story tellers. But here's what they've been doing so far:
When is a scribble not a scribble
"Every child is an artist. The problem is how to remain an artist once he grows up" Pablo Picasso
As well as validating "scribbles", so we recognise all art for arts sake. This month the Shooting Stars have been expressing their creativity through painting from nature: looking at our impressive (and now fading) sunflower, linking it with stories of Van Gogh and looking at his version of the flowers, as well as using pastels to create images of the daffodils that would be growing from the bulbs that we planted.  We learnt that Van Gogh was initially ridiculed for painting things that didn't look as they "should" which should be an important lesson for us in the praise and comments we give to the children as they produce their works of art.  We praise effort and input rather than product ("I love how you've mixed those colours together"/ "I can see you've worked really hard atthat picture" rather than "What a lovely/ nice/ good picture").
Making writing real
Forget worksheets and make writing real. Many of you may already have heard me dismiss the value of worksheets, of tracing over letters. Again, these present the children with a "right" way of doing things (and therefore a "wrong" way). Tracing over letters is just that: tracing. Yes, it might help develop muscles in their wrists but so can threading, tearing, ripping, painting or just using a pen for their own purposes.  Writing has to be real and meaningful so to me, seeing a group of children self selecting pens and envelopes in the home corner  in order to write and post their own letters is much more valuable than following an adult directed worksheet.
Being problem solvers and creative thinkers is our ultimate goal for our children, as how else will they become the inventors and innovators of the future if they learn that there is just a right or wrong answer and only one way of doing things? Experiments are a perfect way of encouraging such skills. The classic vinegar and bicarbonate of soda is always a firm favourite as the effects of making things explode is visual and interactive. But after following the initial instructions of how to make the experiment "work", the children then explored their own abilities in making slime, goo or patterns as they mixed different ingredients together. Meanwhile out in the mud kitchen much messy fun was had as they discovered different textures, ways of describing what they were doing and different effects they could produce. With new discoveries arises opportunities for new language and words; mathematical concepts of measurement and quantity as well as becoming masters of their own creations.
Returning to the topic of "school readiness", we do take our responsibility seriously to prepare the children the best we can to be ready to read and write. After Christmas as embark on the jolly phonic journey but leading up to that, this term is all about preparing them to be able to listen and tune into sounds. This follows the strategies of 'Letters and Sounds'. So we have been using instruments to identify and distinguish between the different sounds they make, listening to sounds around us when out in the woods and fields, identifying sound effects and using beat and rhythm in 'get up and go sessions'.
You can help, not by flash cards but a simple game of eye spy, using the beginning sounds rather than the letter name.  So "I spy someting beginning with ssssssss…..rather that 'ess' ".  Make sure you use the phonetically correct letter sounds as much as you can:
So, that's just a taste of all we've been doing just for starters to kick off the term.  Below are some other letters and information that may be useful to you as we help our children live, love and learn throughout this year. You can find more on the parents page.  But if "all" you are doing in "school preparation" is reading a bedtime story then you are giving them the best possible preparation ever

Learning together maths 08  Teaching of phonics for pre school children  Mathematically speaking