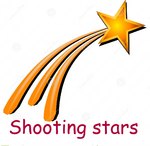 Spring Term 2020
Jack and The Beanstalk: A rhyming tale
Before we closed, the Shooting Stars had embarked on a rhyming active story making journey to the world in the clouds with Jack and The Beanstalk.  Many of you have already shared your growing beans at home, so please do keep sharing as they reach the skies.
Another important part of the Active Story Making strategy is the concept of the story map, which I have shared with other stories. This is something you can all carry on doing at home and please remember that these are your children's stories, their words, their voices so please let them narrate and annotate their tales in their own way.  I have re shared below a link to information about the importance of valuing every mark, every scribble, not an end "perfect" picture so do remember that when letting your child take the pen on their own journey.
I have also shared the version of the story that we have been learning as it encouraging the children to join in with the rhyming ending.
jack and the beanstalk a rhyming tale
As ever, I would love to see your children's story maps on Tapestry or even videos of them telling the story for themselves.
We're going on a Bear Hunt and becoming our own authors while we do
Active Story Making allows the children to tell both the story that they have learnt through pictures and also gives them opportunities to be authors of their own tales that they invent. By annotating their drawings we are putting their own words to paper ans thus they tell their own stories. We have been adapting the Bear Hunt story to go on a parrot hunt, monster hunt, frog hunt while moving through a variety of things from hippos to dinosaurs.
'STEAM' learning (science, technology, engineering, arts and maths) has been in full swing over these past few weeks as the Shooting Stars have been exploring and experimenting with mixing materials and ingredients and watching chemical reactions; such as exploding volcanoes with  vinegar and bicarb of soda and making fireworks in a jar by watching how the separation of oil and water allows food colouring to go down and up like shooting fireworks.  They have been making their own play doh and porridge, as well as following their own ideas as they took control over the ingredients (see 'What have we been doing?)
Week 2
'A' is for…apple cake.  We strive to bring engagement into all areas of play and learning for each and every child at little Star, hence the importance of introducing some of the more formal aspects of learning through varied and "active" activities and experiences.  Cooking is one activity that covers all areas, both of engagement as well as a wealth of "skills", from maths (weights, measures, recognising numbers on recipes), literacy (reading recipes), patience as we wait our turn, science as we watch ingredients change, using equipment such as knives for cutting, graters or potato peelers, and this week also phonics as we linked our sound of the week to making apple cakes.  We also learnt the 3D shape of 'sphere' as it applies to an apple and so do see if you can find more 'spheres' around the house.
As we begin the new term so do we embark on our journey through the world of phonics. We started out with the sound 'S' as we identified objects beginning with the sound. We used our new 'yes' and 'no' spoons to help us choose between different sounding objects.
There is more information about how we teach phonics and how you may want to help your children at home on our parents page. Remember, at this stage the most important thing is to get the children familiar with the sounds rather than the name of the letters.
We're going on an active bear hunt
We have also been telling the well known story of 'Bear Hunt' in an "active" way with children adding the actions in order to tell the story.
See if you can identify all of the words and phrases the children are acting out here:  (or even better ask your children to show you).
Story maps are an important part of telling their own story and it is more important to listen to, and take value in what the children are telling us about their pictures/ scribbles/ marks, than whether they look like anything recognisable. These are the children's own stories, their own words that they are putting down in paper and so should be appreciated and praised as such. Every scribble really does matter!
Autumn Term 2019
We have been continuing to explore through STEAM activities and these experiments and explorations fit perfectly with the Reggio ethos of discovery. The children have mixed liquids and seen how they can make their own bubble mixture, which allows mathematical and scientific explorations, measurements and capacity with water and watching what happens when oil, water and  mix.
"Fiddle tables" where the children can explore and use various tools are also popular as part of our continuous provision. Not only do they learn how to use tools safely but also think about size,  lengths and shape: comparing or choosing the correct screw, nail or screwdriver; they learn force, tension as well as how to manipulate objects for certain effect. They are never given a task, rather be their own creators.
STORYTELLING is a continuous theme this term (as it will be every term). We have added to our key "Active story" of the Little Red Hen, the books of 'Rosie's Walk' and 'Animal Boogie'.  Rosie's Walk is a classic and allows children to develop the skill of "reading pictures" as they add their own narrative to the pages that show what mishaps the fox gets into whilst stalking Rosie. They have also used their own pictures and words to create the book of their own making.
Animal Boogie is a story of song and dance and the children have quite literally brought the story to life through dance and song, as they recognise which animal is going to be discovered next and move accordingly. We looked at all the different animals in the story and found out where in the world they might live.
Why don't you share the song at home with your children and allow them to show you their boogie moves:
Meeting our commitment to "Shine together" and work as a team, we have been doing some large scale group activities as part of our morning timetable or circle times that have encouraged extending individual's imagination as well as using mark making skills. "I've a line, oh what a crazy line…what could it be whatever could it be?" asks the children one at a time to decide what they think the lines that the adult has drawn could be. We had some interesting offerings, from cats, lions, snakes and frogs to cars and superheroes.  Left alone with the sheet and chalk afterwards, the children continued their imaginative journeys, talking together about what their own lines could be.
We have been bringing our story of 'The Little Red Hen' alive, not just through actions, words and pictures but also visiting some real red hens. We were able to feed them and watch them in their pens. The children talked about what they ate, and were amused by how they moved.
Making maths work
Learning should not be about "feeding" information into children, but letting them make their own discoveries. So through allowing a diverse range of experiences children are "doing maths" when they are puzzling how to fit construction parts together; balancing and counting balls when playing games in sunshine circles, noticing shapes on a walk. These are just a tiniest handful of examples and much more fun than flash cards or work sheets

Welcome to our new (and old) Shooting Stars who have made a confident start to the new term. For those making a transition to a new key person, we will be sharing their summative assessment from last term and working with you in developing your new goals for them over the next term.
We are continuing with our focus and use of 'STEAM' activities (scroll down below) and have started with cooking our own cakes for pudding as well as exploring how rain falls through clouds, following a rainy walk.
We have also reinforced our commitment to inclusivity, individuality and friendship by looking and talking about each other: comparing hair colour or styles, eye colour or height, looking at differences and similarities.
Our 'Active Story' for the term will be The Little Red Hen which provides opportunities to further talk about the importance of helping each other and working as a team as well as cooking experiences, baking bread. I attach more information below for those to whom the strategies of active story making is new.
In a preparation for 'Jolly phonics' which we start to implement after Christmas, this term is all about 'tuning into sounds', so we might play games with instruments, go on listening walks or just start to think about placing emphasis on beginning sounds.   I attach more information below regarding phonics, or click on our parents page link.
Teaching of phonics for pre school children
But of course most importantly is that we have lots of fun and share in being happy and kind to each other. This "pre school" year isn't about getting ready for school, it's about giving children the skills and attitudes they need to succeed in life!
Summer Term 2019
STEAM: bubbles, floating and sinking
As previously mentioned on this page. learning through STEAM is, in our opinion, learning at its most effective.  It also shows the value of the "doing" rather than in creating an end product. So, while the "aim" of our bubbles activity may have been to make bubble pictures, the learning and fascination arose from the children's discoveries about how they could make bigger bubbles, or how they could create one big bubble; or the feel of bubbles on their hands. Exploring what makes one item sink or another float allowed discoveries about volume and how adding pebbles to a cup "pushed the water to the top" (water displacement).  Children experimenting in this way allows them to find answers to questions that they didn't even know they'd posed!
The Shooting Stars are starting to put together their 'One Eyed Jim' performance for the end of term, and in the meantime using the story as an 'active' story in "reading" it by using the story maps. Following the pictures allows them to use their knowledge of the story and add their own words to become story tellers in their own right.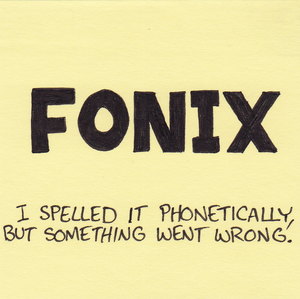 Isn't it ironic that the very word 'phonics' is phonetically incorrect?!  The glorious English language for you….and this minefield is what our children have to find their way through! Luckily then phonics is not such a scary or intimidating prospect when done the Little Star way.
'Magic bags' (any given bag filled with props of the same letter) are always a popular way of introducing the children to a certain beginning sound.  The true learning comes though from leaving the children alone with it once the adult led session has finished. I'm a great believer of letting the children have access to as many of the resources we use through their continuous play as they are then able to re create, re discover and re live the  learning for themselves. So I over hear the children "being teacher" in the book corner with the magic bag: "Can you guess what I have in the bag beginning with 'f'? Yes! well done..it's a frog!".
This is why I believe that a mix of adult and child led learning is the best mix. And learning when they don't realise they are. Hence a "phonics lesson" of fishing becomes a discovery of the properties of magnets, number identification and ordering and again leads the children to make their own investigations as they follow their own interests in exploring the room looking for what is magnetic.
Just add vinegar and a bit of magic powder! 
There are some things that just work…again and again, year after year,  because children don't effectively change, no matter how the government changes their rules, and making explosions is one of them. Making the link with our story of One Eyed Jim who finds his treasure on a volcanic island we found out facts about volcanoes from books and diagrams and then used our emerging reading skills further in following the instructions for making the salt dough volcanoes: recognising numbers and letters.  The children then became scientists and made 'chemical reactions' mixing powder paint, bicarb of soda and vinegar to make our exploding lava.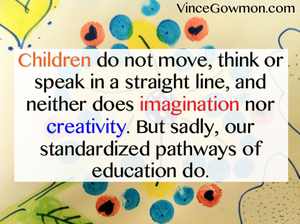 Again, the beauty of true learning continued as they wanted to explore what ingredients they could mix out in the garden to make similar reactions and then even took the ideas into their role play: becoming 'lava girl' the super hero! You give children a line of learning and watch where they can take it. It will invariably go further than you could take it alone and will lead them in directions that you could never imagine.
There are many ways to tell a story and as you know by now, we think Active Story Making is one brilliant method. This term we weave in any number of interests and learning opportunities and fun into our story of 'One Eyed Jim', a pirate who sets off on an adventure with his parrot, meeting a mermaid, an octopus and a puffin on their way to the volcanic treasure island. We've been using pirate and sea faring songs as part of 'get up and go' as well as using octopus to learn the sound 'o' and incorporate some counting and fact finding about this sea creature. Here are some initial story maps and pictures of characters:
And yet we have learnt a new way to tell a story this term, thanks to Miranda's training session on 'Helicopter Stories'.  The idea is that the adult reads stories that have been collected from children.  The children at nursery then sit together around a "stage" (which is marked out on the floor with masking tape) and asked if they want to participate in the story, acting out the various characters. It is a way of collaboration and creativity as the adult should give no cues as to what the actions look like (for example a child may be "lightning" or a "waterfall" but decide themselves how to reenact that ). They then get the chance to tell their own stories which the adult scribes for them and have their own story brought to life.
Spring Term 2019
Every little helps when it comes to saving the planet
Using biodegradable glitter and using as little plastic (and recycling the rest) has been part of eco policy for a while now, but as well as the adults enforcing such measures to try and rescue our planet from pollution Vicki wanted to show the children how by being green with our litter we can alleviate the destruction of our sea life.  The children were able to identify items that should and should not be at the beach so they know what not to leave behind on their visits.  We also actively encourage the children to use the correct bins for litter: recycling as much as possible. 
Their awareness is apparent when taking a walk and the children talking about how dropping plastic litter can get an animal caught and how we should always put it in the bin. These are the people who have to live in this planet of the future after all!
Building a nursery ourselves for ourselves
Not only have the children been enjoying exploring tools at the "fiddle station" (see below) but they also have been active in using real tools alongside adults in creating something from their own ideas. Out in the garden Vicki has been resourceful with some old pallets in creating a car wash for the garage and some avid DIYers were keen to help build it too.
STEAM: Explosions
The joy of making something happen never fails to delight pre school children and what could be better than making a volcano erupt! In the sandpit the children had been busy building their sand volcanoes and so we thought it would be fun to not only follow one child's suggestion to add red painty lava, but to source ingredients to actually make the explosion ourselves. And so with the classic reaction of bicarbonate of soda and vinegar we did just that. Following on from their idea we then explored other ways of mixing different substances to cause chemical reactions and the children all became scientists finding ways of making their own potions in the garden. With a little suggestion from an adult we then created further volcanic eruption by adding mint sweets to some fizzy drinks. This lava was rather tasty!
STEAM in everything we do! 
At last weekend's conference, led by the 'Firm Foundations' organisation, one of the workshops that I went to was about the STEAM project. This is an education outlook that seeks to bring science, technology, engineering, the arts and maths into the children's learning in a cross curricular way, to engage, inspire and motivate children to question, to be problem solvers, to be the people that makes changes for the future.
Whilst inspiring, it also led me to think, "well we do all of that already!".  Not only do the posts below demonstrate such problem solving and open ended opportunities for self discovery, but the fun has continued:
STEAM in phonics: Making honey cake for 'h' allowed us to encounter shape and the natural world by thinking about where honey comes from (the hexagons of honeycomb), changes of state as the butter and honey melted as well as baking the cake and how we can make changes through exertion of force (mixing)…although the children thought we were just baking a yummy cake!
For 'r' we made rain and thought about the water cycle. Whilst the experiment of adding food colouring with pipettes through a "cloud" of shaving foam provided a visual and hands on way of exploring how rain comes through a cloud, the true discoveries and science were provided when they were allowed to freely explore the materials themselves and using a syringe became a trajectory lesson: seeing how far we could make the soapy mixture squirt (we continued this experiment outside). We used the terms of "science" and what is so satisfying is then over hearing the children later on in the garden say to each other "let's be scientists" as they  conduct their own explorations with the materials they find: rocks, wood, sand, soil, water. This is true learning, something no worksheet can provide and this is fun!
Spurred on by some budding engineers and a love for making things, and for making things "real", one idea that I did bring back and go with at nursery was a "fiddle table" where children are allowed access to a range of real tools and various things they can "fiddle with": screwing into boxes, trying to take apart old electrical items, hammering in nails or exploring magnets.  The satisfaction is so much greater than "just pretending" with a plastic saw!
It is in so many of our daily routines that we find examples of STEAM. We use many strategies and games from the 'sunshine circles' repertoire in our morning timetable session and the game of blowing cotton wool balls to each other provided an opportunity to think about force of breath, technique (finding they could get the balls of cotton to go faster and with more control if they went down on their tummy), distance, speed. They also experimented with using straws or just their breath and then ended the session by using the balls to add some nurture to the session, smoothing each other's hands.  Elsewhere, following the children's interests in robots, they followed detailed instructions as to how to make their own wind up robots to race.
Learning is electric!
Vicki introduced the children to the concept of static electricity this week as they made their own electricity from balloons that made their hair stand on end!  Being able to get involved in such problem solving and investigation is such an effective way to allow questioning, active learning, making links…all elements of the characteristics of effective learning.
Jack and the bean burgers
Cooking is a key element of our practice at Little Star as it covers so many elements of the EYFS (in fact each and every one it could be argued and with come creative thinking), plus the children love it. So in an effort to make it not all about making cakes this week we linked our cookery session to the story of Jack and The Beanstalk as we made bean burgers. The children did careful chopping, peeling and mashing as well as tasting both the beans and the finished product for lunch…with a mixed bag of appreciation!
We have also been continuing our own story making in pictures: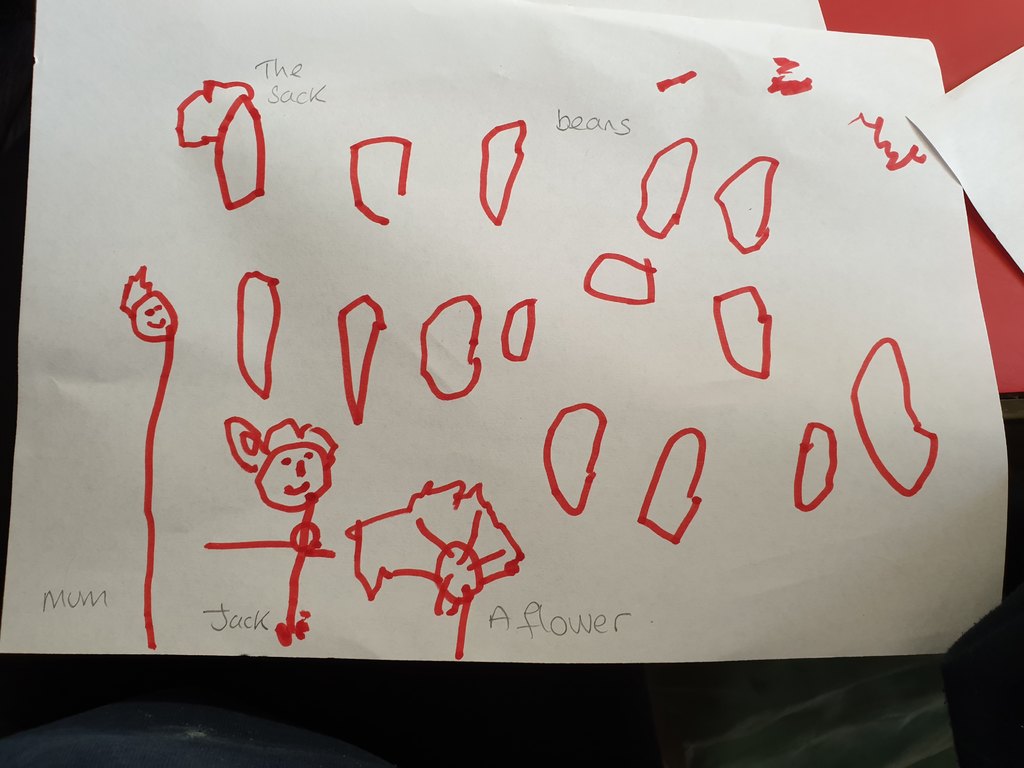 Phonics is "Egg-citing"
A literacy session certainly isn't dull at Little Star…but it can become a bit smelly! So we found when an egg – rolling/ painting  exercise,  accompanied by our version of the jolly phonic song, became even more exploratory and investigative as the children peeled the shells to find what was underneath. So the phonics session became a lesson in the natural world, of maths (the shape of an egg is an ovoid), creativity and lots of fun!
jack and the beanstalk a rhyming tale
This term our active story is Jack and The Beanstalk.  Our version has been re written to include key elements of the active story making practice: such as using actions, connecting words, new vocabulary and the "rule of three", but also encourages the children to think about rhyme and helping end each rhyming sentence.
They have got off to a flying, or should I say climbing start,  by joining in with the story, "reading" and sequencing the pictures, getting creative in designing their beanstalk, using magic beans to extend their imagination as to what their magic bean would do, using beans for counting and beanstalks for ordering into height. They've been adding their own writing to the story boards as well as producing pictures which tell their own story of the tale.  As the term progresses we will be using the story as a link to grow our own beans and look at growth, what plants need to grow and make a start on our vegetable patch so we can reap the rewards in the Summer.
Map reading
I don't resent or regret the rise of technology. The internet provides a valuable resource to us at nursery, as we have access to facts, information, new and different songs and music, as well of course being a way of sharing information with you. However it has meant that some resources are being abandoned and one of these things are maps. With SatNav in your car, google maps on your phone, these inconvenient, rather large paper things just are not needed anymore. And yet as a means for children to read and understand about features of the world, of our country, they are invaluable. This week the Shooting Stars used maps to read: to recognise roads. rivers, forests as well as spotting symbols such as that for a campsite. They then transferred those skills in drawing their own map of the walk that we were going to do to the pond.
So don't throw out your OS and A-Z maps quite yet: add them to your children's bookcase.
Counting: Not quite as easy as 1,2,3.
We use phonics as a foundation for reading: to be able to recognise and sound out words enables children then to blend them together to read full words and sentences. Similarly we develop nad exercise muscles in the wrist to enable children to write. Similarly, in order to master later mathematical skills first children have to be able to count accurately. And this does not mean reeling off their numbers from 1 – 10 or even 20 because that is reciting. It's a skill, but it isn't real counting. To master counting the children must be able to relate a thing for a quantity, this is where the importance of one to one representation comes into play. Take time with your children to slowly use their fingers to count each thing in turn. Often they will rush and so go back and do it with them, using your fingers and then theirs. In this way they become aware of numerical representation.
February
Continuing our passion for active learning,  the Shooting Stars used food to be introduced to the phonic pf 'P' as they were invited to Percy Parrot's picnic, where everything we ate began with the sound 'p'.  As ever this literacy "lesson" extended to using fine motor skills in cutting up the fruit and vegetables, a lesson in geography as we found out where the food had come from as well as counting, sharing, talking and listening to each other; working as a group.
January
It's all about being active so far this month….active story making, active phonics, active maths and active exploring!  Whilst we want to extend learning in key "formal" areas such as literacy and maths we are also passionate that the method of teaching  needs to match the individual learning styles of each child and so they are able to make their own emerging discoveries every day, so they are motivated to learn for themselves and not to please someone else!
We have had some very animated and vocal active story making sessions as the children take on the personas of the "lazy bull", "sleepy cat" and "fat rat" as well as being the very assertive Little Red Hen. They have started to "read" the story map and thus able to sequence and tell the story for themselves  as well as talk about the stories they are making on paper. It is important that we value and listen to everything the children tell us about these stories that they create, as they might add a snowstorm, steps up to the windmill as well as just acknowledging that every mark, every scribble and every line carries meaning.
The course of jolly phonics can seem very prescriptive and whilst we do follow the same songs, actions and sequence of learning the sounds, we want to excite and encourage children and so by mixing it up with some magnetic fun in fishing for things beginning with the sound 's' or cooking 'sizzling sausages' on the fire in the garden we hope to respond to a variety of different learning styles.
Active maths took place in the garden with the Shooting Stars trying to find and name certain 3D shapes. They were very successful in discovering spheres, cylinders and cones. This is something you can easily help your children with when out and about. Make sure you use the correct terms for differentiating between 2D and 3D shapes. 
Finally we've been actively learning through making our own explorations and discoveries, as we've investigated the effects of reactions: chemical reactions of mixing bicarbonate of soda with lemons (lots of lovely smelly bubbles :)) and what happens to ice as it melts or what we can do to it to speed up the melting process. Children were able to make their own learning extensions by adding colour to the lemons and found out about different types of animals that might live where it is cold.
Spring Term 
Welcome back Shooting Stars!  Following our term of embracing the Nativity and the songs that accompanied it, we will definitely be using the chidlren's love of song and music again this term, bringing ideas of their own from home plus a mix of music from other genres, countries and styles.
 We do kick off of the journey through Jolly Phonics this term and you can read more in the letters and information below. This is still all about fun and not formal learning. You won't see  a work sheet or any tracing (tracing is tracing not writing!). We have fun sessions that make links across their learning and play with sounds and letter formation.  Below also are the actions for the first set of sounds that we will be learning this term as well as a link to a video to share the songs at home as well as know the correct pronunciation (although these are in alphabetical order and not the order in which we learn them which does the jolly phonics order).
Teaching of phonics for pre school children
Our 'Active Story' this term is The Little Red Hen which teaches the moral of helping others!  We also get the chance to link it with lots of our own bread baking. For those who need reminding I have shared again more information about story making.
Mindful moments (see below under last term) will continue to feature as part of our morning routines, along with the timetable and 'get up go'. This half hour at the start of every day in itself covers so many areas of learning and development as the children see adults modeling writing for the timetable, talk about numbers for the date, learn to listen to each other, talk about what we hear, use movement in different ways, think how other people are feeling and their points of view and use a range of materials in creative ways. It's not rocket science (although there might be a bit of that thrown in), it's all fun.
As ever there will be much outdoors play, in the garden and off site and of course and most importantly following your own children's interests and passions. Do feel free to share all and any of these with us at parent meetings as they are all that matters.  Let's get going!!!!
Autumn Term
December
December of course means one thing…Christmas and I think many of you have already been hearing snippets of nativity songs being practiced at home. The Shooting Stars have been authors of their own nativity play this year, without giving too much away as their song choices have been included as much as possible. The enthusiasm for entering into the singing, the performing and dressing up is high and it has also helped them to understand the story of the nativity.
However Christmas is not the only festival  that is celebrated at this time of the year and at the start of the month the Shooting Stars learnt about the Jewish festival of Hannukah and the story of 3 years of fighting held their interest.
Whilst you can't help but want to create Christmas themed decorations and art work, we are still led by the children's own creativity and ideas. Hence what was intended as a starry wall backdrop became a piece of art in itself and led to body art work, whilst our santas were certainly individualistic!  We made discoveries working together exploring "snow"
We've also been creative in sending some glittering letters to Santa which gave us the chance to use our emergent writing skills. Look out for your replies from Santa in the post!
November 
Mindful moments
We have been using practices from 'Sunshine circles'/ thera play in our daily routines for some time now and these have been used successfully in our morning 'timetable' half hour at the beginning of the day, as has been reported before, and on the Rising Star page where we talked of mindful moments. Over the last couple of weeks we have been exploring these mindful moments with the Shooting Stars. The idea of these short periods is that they can share an experience as they want to, playing with bubbles for example or feathers. There are no "outcomes", no expectations, no learning goals. It is there just for the children to wallow in their own moments.
Making learning real
We all know that it is far easier to be motivated when we are doing things that…well motivate us! This is why we work with you and the children in planning for their interests first and foremost and making play and learning relevant. This means for many learning and playing on a practical and active level, hence the creation of our work shop in the garden. Vicki was helped in putting up storage units and magnetic strips for tools last week as they used mathematical ideas and mark making to bring their learning to life.
With Christmas approaching (and with that rather a lot of time spent on the nativity story), rather than having one story that takes us through the term, we have been adapting and adopting active story making to many books and stories. You will read on the main page our interpretations of the Diwali story of Rama and Sita (always popular with our Shooting Stars, having characters such as the monkey king and Havana, the evil warrior king!) and we have also been bringing some classics to life: Rosie's Walk and Goldilocks. Combining many techniques of using props, books, story maps, actions and even making our own porridge (both inside and outside the the garden kitchen), the children have been able to find a form of expression that suits them. Observing them using these techniques in their free play is the most affirmative proof of the value of story.
September
We are just a month into the new term and our pre school Shooting Stars have made a sparkling start!  We have been getting active with our new story of The 3 Billy Goats Gruff, developing our literate journey as we practice tuning in to sounds to extend listening skills and "write" our own story maps. We've been out and about exploring the changes in nature as Autumn approaches, conducting our own experiments and investigations into change, cause and effect. We've been postmen, pirates and princesses, we've been playing.
When is a scribble not a scribble?
With  the children entering into their pre school year comes a risk that the focus is about "preparing" them for school: "teaching" them how to write their names, "learning" their numbers, counting, shapes etc. What we cannot and at Little Star, do not forget is that these are 3 and 4 year olds. A 3 year old is a 3 year old and is not someone who "will be 4″. Some of our new Shooting Stars have months of being 3 left

So, this "pre school" year is still all about play. It's about becoming independent and passionate learners, social people who can accept others in their play, who can listen to and be appreciative of what others have to say (both adults and peers). It's about value, being valued and placing value on their own abilities and worth. Every child can shine and this is how we propose to do it:
Writing floats on a sea of talk
We love books and their value is placed very highly at Little Star (as you will be read on the main what have we been doing? page), however, learning and play is an active process and this is why we embed the styles of Pie Corbett's 'Active Storymaking and 'Talk for writing'. For those new to the concept of 'Active Story making' you can read more about its essence and intentions in the letter below but it is a teaching strategy that in my opinion has something for everyone and can be moulded to suit the interests and learning styles of all children.   We tend to kick off the term with the 3 Billy Goats Gruff as its beauty lies in its simplicity. The actions are repetetive and fun, as are the words ("Ok kid, move along!") and the children can get fully active in trip trapping across the bridge, both imaginatively and across bridges out on our walks.  Both in the telling of story orally: with just actions or with props and constructing bridges,  and in "writing" as they create their own story maps, the children are becoming literate.
New vocabulary and parts of speech are introduced as we learn the building blocks of story ('Once upon a time'; 'Early one morning'); connectives ("So", "next") and new vocabulary (The "rickety" bridge). They are reading, as they recognise and follow the pictures in the story map.  As we progress, we will be allowing the children to alter the story for themselves and become master story tellers. But here's what they've been doing so far:
When is a scribble not a scribble
"Every child is an artist. The problem is how to remain an artist once he grows up" Pablo Picasso
As well as validating "scribbles", so we recognise all art for arts sake. This month the Shooting Stars have been expressing their creativity through painting from nature: looking at our impressive (and now fading) sunflower, linking it with stories of Van Gogh and looking at his version of the flowers, as well as using pastels to create images of the daffodils that would be growing from the bulbs that we planted.  We learnt that Van Gogh was initially ridiculed for painting things that didn't look as they "should" which should be an important lesson for us in the praise and comments we give to the children as they produce their works of art.  We praise effort and input rather than product ("I love how you've mixed those colours together"/ "I can see you've worked really hard atthat picture" rather than "What a lovely/ nice/ good picture").
Making writing real
Forget worksheets and make writing real. Many of you may already have heard me dismiss the value of worksheets, of tracing over letters. Again, these present the children with a "right" way of doing things (and therefore a "wrong" way). Tracing over letters is just that: tracing. Yes, it might help develop muscles in their wrists but so can threading, tearing, ripping, painting or just using a pen for their own purposes.  Writing has to be real and meaningful so to me, seeing a group of children self selecting pens and envelopes in the home corner  in order to write and post their own letters is much more valuable than following an adult directed worksheet.
Being problem solvers and creative thinkers is our ultimate goal for our children, as how else will they become the inventors and innovators of the future if they learn that there is just a right or wrong answer and only one way of doing things? Experiments are a perfect way of encouraging such skills. The classic vinegar and bicarbonate of soda is always a firm favourite as the effects of making things explode is visual and interactive. But after following the initial instructions of how to make the experiment "work", the children then explored their own abilities in making slime, goo or patterns as they mixed different ingredients together. Meanwhile out in the mud kitchen much messy fun was had as they discovered different textures, ways of describing what they were doing and different effects they could produce. With new discoveries arises opportunities for new language and words; mathematical concepts of measurement and quantity as well as becoming masters of their own creations.
Returning to the topic of "school readiness", we do take our responsibility seriously to prepare the children the best we can to be ready to read and write. After Christmas as embark on the jolly phonic journey but leading up to that, this term is all about preparing them to be able to listen and tune into sounds. This follows the strategies of 'Letters and Sounds'. So we have been using instruments to identify and distinguish between the different sounds they make, listening to sounds around us when out in the woods and fields, identifying sound effects and using beat and rhythm in 'get up and go sessions'.
You can help, not by flash cards but a simple game of eye spy, using the beginning sounds rather than the letter name.  So "I spy someting beginning with ssssssss…..rather that 'ess' ".  Make sure you use the phonetically correct letter sounds as much as you can:
So, that's just a taste of all we've been doing just for starters to kick off the term.  Below are some other letters and information that may be useful to you as we help our children live, love and learn throughout this year. You can find more on the parents page.  But if "all" you are doing in "school preparation" is reading a bedtime story then you are giving them the best possible preparation ever

Learning together maths 08  Teaching of phonics for pre school children  Mathematically speaking